CNHTC Participated In No 17th. Shanghai International Vehicles Exhibition
Release time 2017-05-22 16:39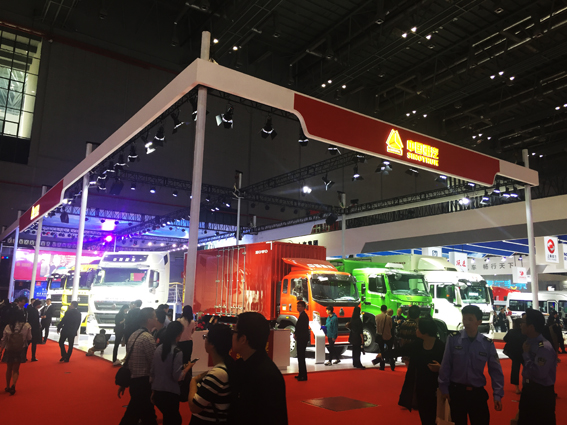 On the morning of Apr. 19
th
, the 2 yearly Shanghai International Vehicles Exhibition started in Shanghai National Convention and Exhibition Center. The theme for this Exhibition is "Committed ·To a better life". In the exhibition hall of nearly 40,000 squares-meters,the Domestic and Foreign major vehicle enterprises gathered, many brands have launched new models, attracting the attention of the world.



China National Heavy Duty Truck, as a national heavy truck brand, with its Shande card C7H smart truck, HOWO-T6G, G5X light truck and other seven vehicles, as well as a large number of new technology assembly parts debuted exhibition and showed the wisdom of heavy truck APP platform Sales, accessories, booking maintenance and other powerful features at the same time. Abundant showing car lines and unique system platform became a major highlight of the current auto show. China National Heavy Duty Truck Group Party Secretary, Chairman Ma Chunji, deputy secretary of the party committee, deputy general manager Yu Youde and other relevant leaders come to this exhibition, and accepted the media interview.
On the exhibition, 2017 China Heavy Duty Truck Man Technology Products Challenge release ceremony was held. The leadership of CNHTC and the United

States appeared together, officially launched the new event. It is understood that the new fuel-efficient competition in adhering to the "real car, physical goods, the actual road conditions," the "three real" concept on the basis of last year's event was upgraded. First, the regional team added a group outlet mechanism the players. The game will be more fair.Second is to broaden the industry, the addition of Express Express, dangerous chemicals and other market segments. The situation is more exciting; Third, HOWO-T, Shande card, luxury brand models will appear in different regions as game trucks. The championship battle is bound to be more intense.