SINOTRUK 200 Units of Special Vehicles To Achieve Export Volume
Release time 2017-02-08 14:23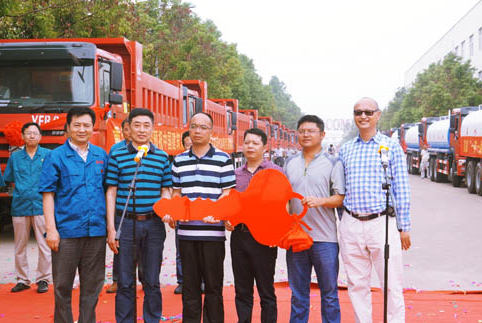 China National Heavy Duty Truck Group exports 200 units Special Vehicles to South Asian official start in 12th, June.

China National Heavy Duty Truck Group adhered to the "Going Out" strategy, products are exported to the Middle East, Eastern Europe, Southeast Asia, West Asia, Africa, Oceania and other regions of the country, CNHTC exported more than 1,200 units special vehicles in 2015.

As early as in March of this year, Chinese Construction Third Engineering Bureau Ltd. signed a strategic cooperation agreement with China National Heavy Duty Truck Group in the provincial foreign trade enterprises docking meeting, the first order export to a country of South Asia 200 vehicles designed steam orders signed. This batch of export vehicles including Dump truck, Oil tank truck, Sprinkler truck, etc..

At the scene of delivery, the purchaser relevant responsible person said:"SINOTRUK is reliable, our cooperation with SINOTRUK just begin, we're going to have the long-term and further cooperation".