Cargotec Group's visiting in CNHTC
Release time 2017-02-08 14:25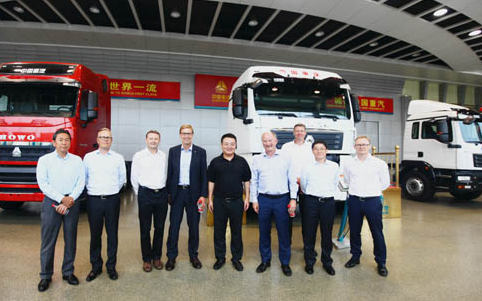 On August 16, people of Cargotec group under the leadership of Chief Executive Mikael Vehvilainen visited China National Heavy Duty Truck Group. The executive director of CNHTC, Liu Peimin, and general manager of the HIAB, Jiang Changming accompanied them to visit Jinan Ministry of Energy, Jinan Commercial Vehicle Company, Technical Center laboratory.

Liu Peimin introduced our customers the Sinotruk and Germany Man Truck's cooperated high-end truck, SITRAK, and invited guests riding experiences. The guests thought highly of Sinotruk products with classy appearance, high-end configuration, excellent performance, comfortable driving experience. They also gave a high degree of concern and evaluation for Sinotruk production technology and the ability of high-end heavy truck.

In the exhibition hall of parts, Liu Peimin briefed the guests on our own production of high-end man series engines, transmissions, axles, and focused on the chain Assembly. In Jinan Commercial Vehicle Company production workshop, the guests carefully watched the production process of Sinotruk products, and they actively communicated with the leaders.