The Chairman of CNHTC Met Suppliers and Representatives of Key Account
Release time 2017-02-08 14:25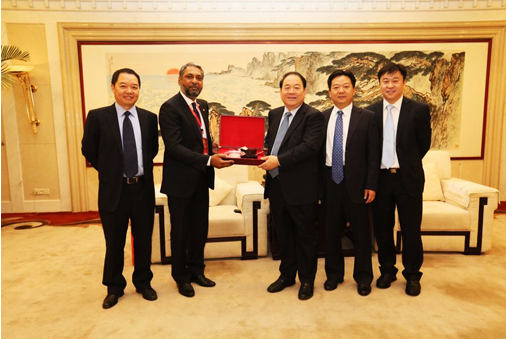 On the afternoon of September 19, Mr. Ma Chunji, Secretary of the Party Committee and Chairman of China National Heavy Duty Truck Group, met with the representatives from some suppliers and large customers of the 60th Anniversary of the establishment of CNHTC. They carried out in-depth exchanges and discussions on carrying out multi-field, the whole process, deep and sustainable cooperation, realizing the win-win development of CNHTC and its partners.

At the meeting with Triangle Tire Stock Company executives Wang Wenhao, Mr. Ma said that China National Heavy Duty Truck Group and the Triangle Tire Company have been very happy to cooperate for a long time, at present about 40% of tires on Sinotruk vehicles are the Triangle products. Hope that the Triangle do not stay at the simple level of support, on the one hand to strengthen cooperation with CNHTC to improve vehicle reliability and reduce fuel consumption, on the other hand to explore in the broader and deeper areas of new cooperation. CNHTC will provide strong support in certain technology, services and other areas.

During the meeting with representatives from the Philippines, Pakistan, Ecuador and Vietnam, Ma Chunji said that he was very happy to see all of our friends on the 60th Anniversary of the establishment of CNHTC. He thanked the overseas partners for their recognition and support on CNHTC. And hope that the friendly cooperation will continue to develop in a steady and long-term way, we can continue to explore new areas and deepen the cooperation level. The 60 years of development of Sinotruk has gained the strong support from our users all around the world. Our market share of heavy truck has accounted for one-third of total sales. China National Heavy Duty Truck Group will provide customers with quality service and protection, and have the confidence and ability to start in the world of China Heavy Duty Truck brand.